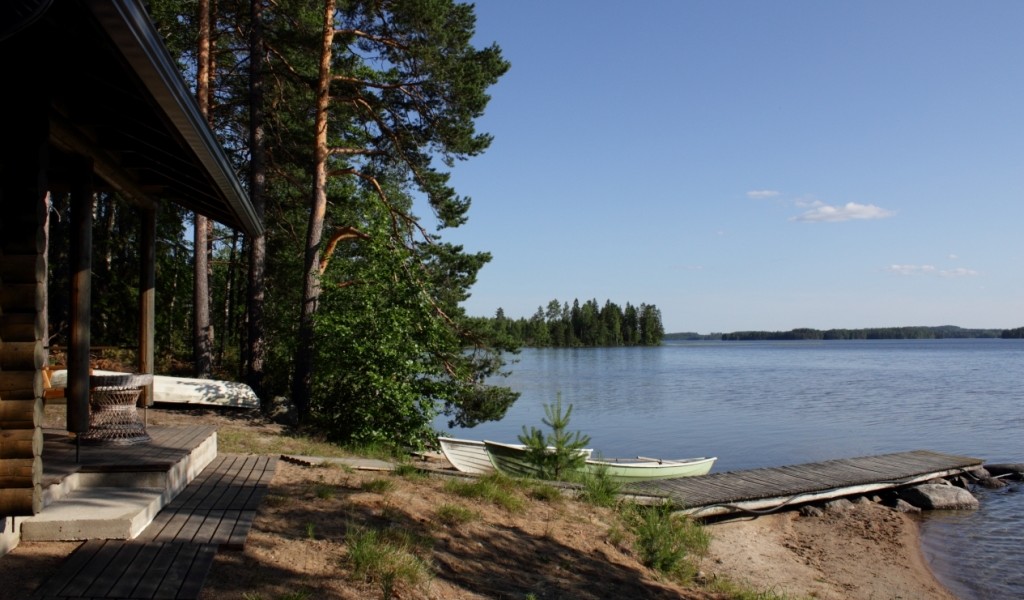 Lahdelma
Quality Rural Tourism, Event & Meeting Facilities
Our award-winning tourist farm is located in lush rural setting of Pertunmaa, in Southern Savo, only a two-hour drive from Helsinki and less than one-hour drive from Mikkeli.
Our holiday cottages, villas and barn apartments set in the middle of magnificent lake landscape have been a relaxing retreat from the hustle and bustle of everyday life since 1988. Our high-quality holiday cottages and the luxurious Spa Villa Keidas are also ideal for meetings and parties all year round.
If you want to unwind and love outdoor activities, you can rent various equipment on site and take the most from the lake and forest landscapes surrounding the farm. We maintain footpaths and skiing tracks and have listed the best selection of local walks and hiking tips in the Day Walk Guide.
Through our partners we offer a variety of wellness treatments, such as massages, as well as horseback riding, canoeing, fishing trips, mountain bikes and golfing. If you want to pamper yourself, we can arrange a private chef for you, for example, to cook a delicious dinner from local products!
If you are interested in farm activities, you can see rural life too. On the neighbouring farm they breed Highland cattle, and ours is an authentic organic farm set in lush landscapes.
We have all the ingredients for your successful holiday. We will be very pleased to welcome you as our guest!
Holidays in the Nature and Relaxation
Our location in a natural environment by the lake and a network of partner companies ensure high-quality services all year round. You can rent equipment for outdoor activities on site and enjoy the wonderful rural surroundings and the lake in summer and in winter.
Summer Outdoor Activities
There is a huge variety of activities including jogging, walking, swimming, fishing, berry picking, mushroom picking, boating on Lake Peruvesi. Walking, jogging, cycling, and fishing maps can be found on the information page.
Winter Outdoor Activities
Winter activities include walking, cross-country skiing, sledding and ice fishing. Ice skating is possible on the natural ice of Lake Peruvesi if there is not too much snow. A map of cross-country ski tracks made and maintained by the farm owners can be found on the information page.
Equipment Rental
You can rent Nordic walking poles, outboards and fishing gear, Alpine skis, ski boots, kick sleds, ice fishing equipment.
Movable Plunge Pool
You can book a portable, pre-heated plunge pool placed in the courtyard of your holiday cottage, from 150 € / day. The spacious pool can accommodate 8 people at a time.
Saimaa Fishing Travels
The most advanced, high-quality fishing tackle in the Saimaa region and experienced and professional fishing guides.
http://fishingfinlandia.fi/
Trolling Trips on Lake Puula
You can book a day landscape boat trip or a trolling trip from a company specializing in salmon trekking and landscape cruises in the waters of Lake Puula. You can catch lake salmon, lake trout, carp, pike-perch, pike and perch.
http://uistelumatkat.com/
Miekankoski Canoe Rental
You can rent excursion kayaks or an open canoe from Miekankoski Café and go on a trip in nearby waters around the café or have it delivered to the cottage.
http://www.miekankoskenkahvila.com/
Corporate Venue with Overnight Stay in Pertunmaa
Organize a meeting, a day of recreation, a pre-Christmas celebration, a corporate party, a retirement party or a team day in our luxurious Spa Villa Keita or in one of our larger cottages: Riemurahi or Ilotupa.
Great Location by the Lake
Our cottages are set right on the beach and surrounded by magnificent nature, which gives excellent opportunities for a varied recreational program. You can take your mind off work and unwind on a footpath in the woods, by the lake or in the large outdoor space.
A Stunning Party Venue with Lake Views
Villa Keidas is a wonderful venue for weddings, birthday parties or other family celebrations in a modern villa setting with lake views. The private road gate can be closed, if needed.
3000 m² for Your Party
The total indoor and outdoor space is almost 3,000 m², and it is enough even for larger cocktail receptions and parties. The interior space of the three-storey spa villa is 420 m² in total. Marquees/party tents can be arranged in the outdoor space.
Private Spa and 4 Saunas
Villa Keidas has a private spa, 4 different saunas, indoor and outdoor hot tubs, as well as a private beach and a pier. You can finish off your sauna treatment in the cold waterfall or in the steam shower cabin.
The spa facilities include changing rooms for women and men, as well as a lounge with a fireplace, a bar counter and a refrigerator.
Quality Accommodation
on a Lake
Click here to see all of our accommodation options and more information!
We offer well-equipped accommodation for all needs and for all sizes of groups. There are different kinds of rooms, apartments and cottages available, not to forget our luxurious villa!

Lahdelma
Peruvedentie 393
19430
Pertunmaa

Tutustu myös muihin lähiseudun kohteisiin